We're really excited that you want to be part of the referral program and spread the word about WazirX with all your family and friends. The following article will help you understand all details of the program. We have tried to be as transparent as possible & kept the program simple so you can focus on earning more rewards instead of worrying about any terms and conditions!
What is the WazirX Referral Program?
The WazirX Referral Program is a great opportunity for you to earn Free WRX coins by inviting your friends to join WazirX. It is our way of rewarding you for your efforts in helping bring more users to WazirX and being a part of the crypto revolution in India! It is probably the most rewarding crypto referral program currently in India.
How does it work -
How many friends can I refer to WazirX?
At the moment, we have not capped the number of friends you can refer. So the opportunity is truly limitless! The more friends you successfully refer, the more WRX coins you earn.
We do reserve the right to adjust or change the referral program rules in the future.
How can I refer a friend to WazirX using my referral code?
Once you signup, you can access your unique referral/invite link by going to Settings > Referrals. You can share your referral/invite link with your friends by simply copying it and sharing it everywhere or using one of the sharing options like Telegram, Twitter, Facebook & Whatsapp.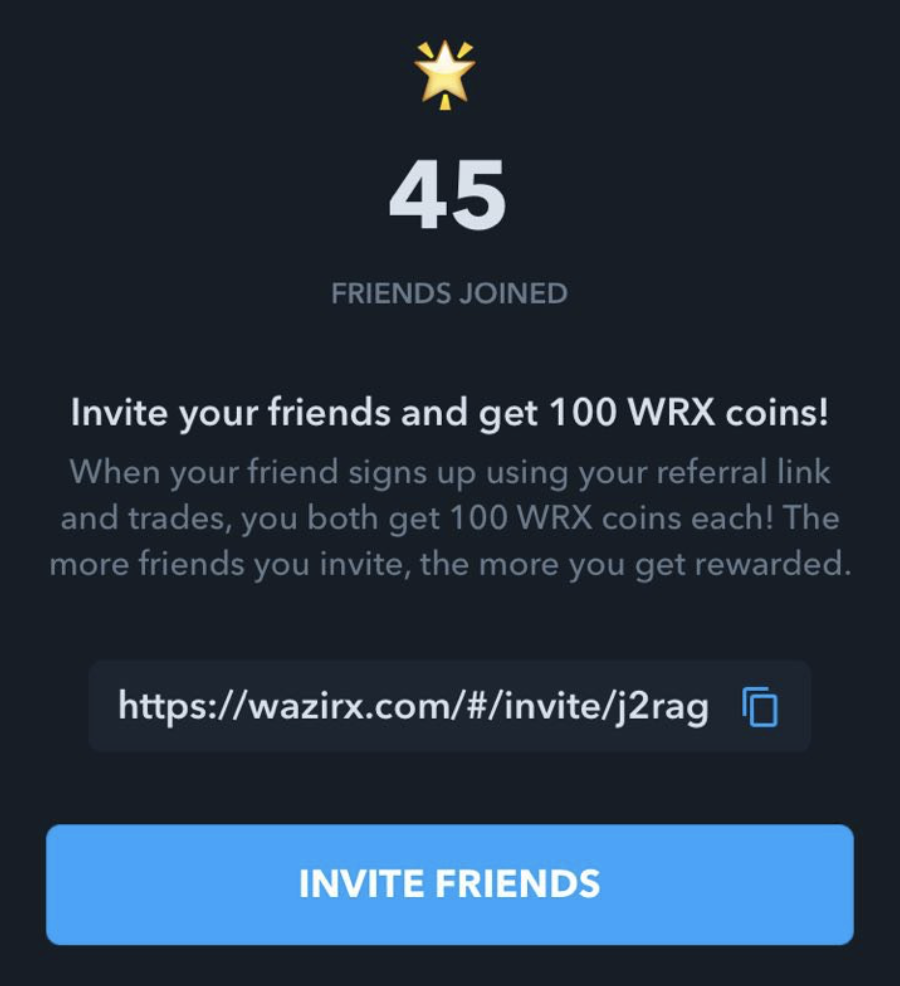 When your friend clicks on this link and signups for a WazirX account, you will be eligible for 100 WRX coins as a reward for the referral.
When will the WRX coins be credited to my account?
For the WRX coins to be credited to your account, the following 2 conditions need to be successful -
Your friend makes atleast 1 trade within 30 days of signing up


You make atleast 1 trade within 30 days of signing up
How can I track the number of friend's I've referred?
You can see a count of the number of friends who joined using your referral link by going to Settings > Referrals. This count includes all those friends who clicked on your link and created a WazirX account.
For security reasons, we will not be sharing personally identifiable details about which friends used your referral link.
Do you have any tips that will help me earn more rewards?
Share your invite link with as many friends as you can. The more friends you share it with, the more likely they are to sign up. Use social media, chat and emails to share your invite link


Get your friends excited about crypto and why they need to sign up on an exchange like WazirX


Let your friends know about the benefits of signing up with your invite link instead of signing up directly


Encourage your friends to use their own referral links after they sign up. This will build their trust in you


Push your friends to complete their first trade so both of you receive your rewards!
I referred a friend but it has not yet qualified for the reward.
There are some reasons why even though you think you may have successfully referred a friend, that referral did not count -
Your friend did not click on your referral link and instead signed up directly on WazirX
Your friend clicked on another referral link and signed up with that link
Your friend's KYC is still under verification or has been unapproved
Your friend has not completed their first successful transaction on WazirX. For a transaction to be successful, the Buy or Sell has to be completed within 30 days of signing up.
You or your friend did not meet the rules below
Important rules to keep in mind
Please keep in mind the below rules when you participate in the WazirX Referral Program. These simple but important rules help us keep the program fair for the entire community.
Do not misrepresent rewards when sharing the referral link with your friends
We constantly look out for fake or duplicate accounts. If we find something amiss we will disqualify those accounts from being part of the referral program and withdraw any rewards that may have been credited earlier
Note: While we run this program in good faith, WazirX reserves the right to make any changes to the referral program without prior notice. We may make such changes in view of changing market conditions, security or risk of fraud or any other reason. The decision on reward eligibility will be made by WazirX and will be final and binding. By participating in the referral program you acknowledge the above.
If you find someone misusing the referral program, you can let us know by contacting us directly. We'll look into it and take the necessary steps to fix it.
Do follow us on Twitter (@wazirxindia) and join the WazirX Telegram channel (https://t.me/wazirx) for the latest updates & announcements about WazirX.