Namaste Tribe! We've always believed that the community has a huge role to play in the success of a product. If you look at the WazirX journey, you'll understand how much YOU — our tribe — have contributed to our development and growth. WRX has played a huge role in this as well — WRX has helped us involve YOU in building WazirX and involving Indians into the blockchain revolution!
WRX has been one of the largest giveaways in the crypto ecosystem
With WRX giveaway, our goal has also been to allow you to participate in the long-term success of WazirX. If the last 20 months are any indicator, then you should know that we'll do the right things to ensure that WRX becomes a very useful token in the WazirX product ecosystem. Phase 1 of our growth has been phenomenal, and we couldn't have done it without your support! We're in — as We keep saying — now the Phase 2 of WazirX growth!
And this is where we need your help.
We've been thinking of the right way to unlock WRX tokens for a long time. Recently, we also announced WRX token sale on Binance Launchpad. Together, you and us need to ensure that WRX becomes more helpful token for the crypto ecosystem.
After a lot of internal discussions, understanding and figuring the right way to unlock WRX so that it benefits the entire ecosystem, we've come up with a very fair way to unlock WRX below.
Token unlock schedule
The WRX tokens we've given away till now — in the form of sign up bonus, referral, trade mining, contests, etc. — form 11.10% of the total WRX supply of 1 Billion. These 111,000,000 tokens fall under "WRX Airdrop" as per our tokenomics. Read more. Here's how we'll unlock these 111,000,000 WRX tokens:
On Day Zero, i.e., the day of WRX listing, 10% of your WRX tokens (with a maximum limit of 5000 WRX) will be unlocked. You can use your unlocked WRX tokens to trade, or pay trading fees (when it's enabled), or simply HODL.
The balance amount of your locked WRX tokens — after Day Zero unlock — will be divided into 3 equal parts. Example: Let's say, you have 30,000 WRX locked, so it will be divided in 3 parts of 10,000 WRX each. Below are the 3 parts with unlock mechanism:
Trading fees

: One-third o

f your locked WRX tokens will be completely unlocked in February

(we'll announce when it happens) and you can pay trading fees with it on WazirX. Example: Your 10,000 WRX tokens will be unlocked and you'll be able to pay trading fees on WazirX.

Fixed periodic vesting

: One-third of your locked WRX tokens will be unlocked

equally

over a period of 24 months (2 years) starting from 31st May 2020. This amount will be divided into 24 equal parts and unlocked at the end of every month till 30th April, 2022. You can use your unlocked WRX tokens to trade or HODL.

Example

: Every month, 4.1% of the locked 10,000 WRX tokens, i.e., 416.66 tokens unlock over a period of 2 years.

Volume-based vesting

: Based on your trading volume, a maximum of one-third of your locked WRX tokens will be unlocked starting from 31st May 2020. The token amount unlock will happen quarterly — divided into 8 quarters (2 years) till 28th February, 2022.
You can trade and unlock the locked WRX tokens any time, any day. There's a maximum cap on the amount you can unlock. Calculation of unlock below:
Number of WRX unlocked = Total Volume traded in USDT x 0.1
Maximum WRX unlock per quarter = Total number of Volume-based vesting tokens / 8
The lower of the above two categories will be considered to unlock your tokens.
Example: You can unlock a maximum of 12.5% of your locked 10,000 WRX tokens, i.e., 1250 WRX tokens every quarter. Let's say, if you traded worth 10,000 USDT in a quarter, then you will be able to unlock only (10,000 x 0.1 =) 1,000 WRX Tokens. The remaining 250 WRX tokens cannot be carried forward, it will be burned.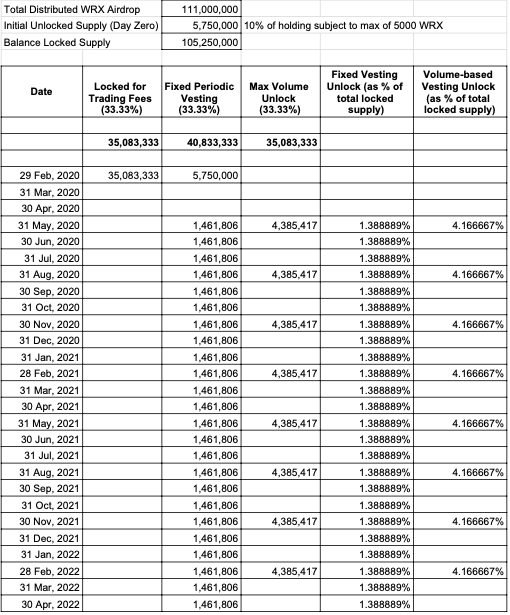 WRX unlock mechanism
We're glad that we have been able to keep a fair release schedule and kept your interests above ours. We've made sure that your WRX vesting happens quarterly and within two years.
We're going to answer some of the questions that came up internally during the discussions that led to this release schedule:
Why not release all the tokens on Day 1?
This would have been the easy way out. We don't have to build any special unlock mechanisms, we don't have to think too hard about our community or about WRX. Just mindlessly go ahead with a release all for Day 1.
However, a successful token is a function of its tokenomics. Thanks to some very experienced folks helping us, our tokenomics has been built to be one of the best in the industry. One of the important factor was to ensure the supply of WRX is in the right quantity. Due to the tokenomics, we had to think hard and come up with a release schedule that helped us make our tokenomics stronger.
Token unlock schedules exist not just for you but also for the foundation, for private investors, for product marketing, etc.
While we had to work days and nights to come up with a fair and innovative release schedule, I'm proud of the fact that we've been able to come up with something that works well for everyone involved and is a very fair schedule for the entire ecosystem.
Why has some portion been reserved exclusively for fees?
The number 1 use case of WRX is trading fee discount. WazirX is a crypto exchange where all of YOU are those who trade.
Keeping these conditions in mind, we wanted to ensure that a portion of WRX is used exclusively for trading fees. This also ensures that we are building the right community of traders and crypto enthusiasts, and not just turning this into a game of acquiring WRX. Time and again we've informed our users that the primary aim of WRX is to build a community and provide trading fee discounts to those who own it. With this release schedule, we're staying true to our commitment towards WRX.
What's the biggest motivation to come up with this release schedule?
Apart from all that we've said in answers 1 and 2 above, we would like to state that it was our hard work and your support that has helped us be India's biggest and most trusted crypto exchange. Your patience has helped us build a useful product, helped us grow the ecosystem and helped us finally get WRX to Binance launchpad.
Why do I need to trade again to unlock my WRX?
It's all about balance! If we're to further grow WazirX then as a community we have to work towards it. All of you have been actively helping WazirX due to which we're where we are today. But, there's a ton of work ahead of us and we need your continued support. We cannot do it without our community helping us out. This is one of the biggest reason why we've carved out a portion of WRX to be unlocked through trading. The good thing is that you'll be able to use your existing WRX that has been reserved for fees to pay the trading fees.
With your support, we've been able to get WRX to the very best platform in the world — Binance Launchpad. But our work does not end here.
We're not here to just IEO and then celebrate.
Our work begins now. And we cannot succeed without your continued support. When building and growing a product and community, hard decisions need to be made sometimes. But in the end, we know it's the right thing to do for the community.
It's just been under 2 years and we've achieved such amazing results. Now we go on to the next phase of growth, together.
WRX sign up & referral bonus update
With effect from 27th January 2020 11:59 PM IST, we're stopping the WRX sign up bonus program.
What does it mean?
You might be aware of the free WRX bonus you get on signing up on WazirX, and on referring your friends. When you sign up on WazirX or when your friend signs up using your referral link, we reserve 25 WRX tokens for you. This WRX gets unlocked after you or your friend performs initial trades worth 100 USDT on WazirX. Read more.
Due to the upcoming WRX IEO on the Binance launchpad, it's time to stop this WRX signup and referral bonus. We may bring it back in the future under the right conditions.