Everything you need to know about the WRX Mining Bounty - India's largest crypto mining rewards!
How do I participate in the mining?
To participate, trade in any of the coins in the USDT, BTC and INR markets. The more you trade, the more WRX you unlock and earn!
Each of your trades will be calculated to determine which trading slab you have achieved. Each trading slab you climb up gives you a boost & you unlock more WRX!
Note: WRX mining is not available for P2P trades.
How can I track my trades and unlocked WRX?
We have built a powerful mining tracker page for you to keep a minute by minute track of trades and WRX coins you have unlocked. You can also see a daily history of the WRX you have unlocked during the mining period. To access the mining tracker -
Login to your WazirX account
In the top bar, click on WRX Mining
Make sure you are updated to the latest version of the Android App
Login to your WazirX account
Tap on the Settings menu at the top left
Tap on WRX Mining
The tracker is not live for iOS yet. However, all trades you make on the iOS app too will count towards the mining. iOS users can track the mining through the web app or Android app.
How can I unlock more WRX?
The more you trade in the USDT, BTC and INR markets, the more WRX you can unlock and earn every day! With each trading slab, you will boost and unlock more WRX rewards. You can boost your earnings by up to 533x as you move from the first level to the highest level in trading! ALL your trades for the day will be combined and totaled up every few minutes to calculate the slab you have unlocked. The current daily slabs and rewards are as below -
USDT Market Trading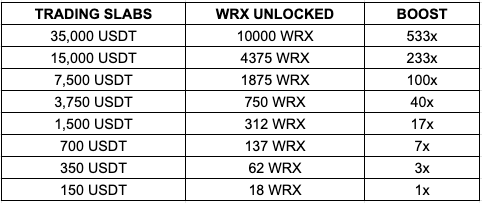 BTC Market Trading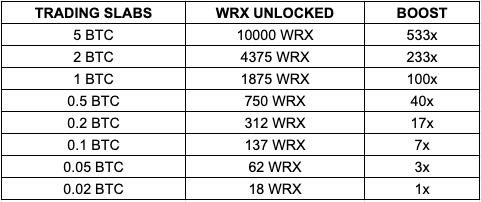 INR Market Trading
For ease in calculation, boost figures are calculated cumulatively and rounded off.
When will the unlocked WRX be credited to my account?
You should be able to see the unlocked WRX in your WRX balance within 24 hours
Any other rules I need to know of?
As always, we prefer keeping things simple so you can focus on trading and winning instead of worrying about the rules. There are no complicated hidden rules or conditions that you need to be worried about.
We constantly look out for fake or duplicate accounts. If we find something amiss we will disqualify those accounts from being part of the program and withdraw any rewards that may have been credited earlier
Note: While we run this program in good faith, WazirX reserves the right to make any changes to the program without prior notice. We may make such changes in view of changing market conditions, security or risk of fraud or any other reason. The decision on reward eligibility will be made by WazirX and will be final and binding. By participating in the mining program you acknowledge the above.
If you find someone misusing the mining program, you can let us know by contacting us directly. We'll look into it and take the necessary steps to fix it.
Do follow us on Twitter (@wazirxindia) and join the WazirX Telegram channel (https://t.me/wazirx) for the latest updates & announcements about WazirX.