WazirX has now become India's first-ever cryptocurrency exchange to be acquired by
an international one
INDIA, November 21, 2019: India's largest and most-trusted cryptocurrency exchange, WazirX, has been acquired by Binance, the world's largest cryptocurrency exchange and blockchain ecosystem. With its successful acquisition, WazirX has now become India's first-ever cryptocurrency exchange to be acquired by an international one.
WazirX was launched in March 2018 and has witnessed substantial growth in volume and adoption since then despite regulatory hiccups. The platform innovated and launched WazirX P2P – the world's first auto-matching P2P engine – shortly after the RBI imposed a banking ban on cryptocurrency exchanges in the country. The move proved to be a game-changer and made the platform cheapest, fastest, and simplest way to trade cryptocurrencies using INR in India. Following the Binance acquisition, WazirX will be able to extend its P2P advantage to more countries and solve crypto conversion problem for the masses.
"The next phase of mass adoption for Crypto will arise from developing nations around the world. India with more than a billion people is primed for massive crypto adoption and this acquisition by Binance gives us the opportunity to not only cater to India but every developing nation where fiat on-ramps have to be built. The acquisition is yet another step towards achieving our shared mission with Binance of decentralising the world," said Nischal Shetty, WazirX CEO.
The platform had also launched Smart Token Fund (STF) - a community driven initiative where cryptocurrency enthusiasts can find smart traders, and let them grow their cryptocurrency portfolio on WazirX. It envisions to solve the problem of those traders who either don't have time to trade or cannot keep a tab on latest developments. STF removes all such barriers and intends to bring onboard the next million people into crypto.
"Fiat ramps play a critical role in deciding the size & adoption of cryptomarket. Binance has all the major traders in the world and WazirX has tried and tested technology for next-generation peer to peer exchange, together we can drive mass adoption across the globe by solving fiat ramps," said Siddharth Menon, WazirX COO.
India is one of the fastest growing mobile fintech markets globally. WazirX's intuitive and world-class mobile apps allow people to trade on the go, and this has played a massive role in its success. WazirX has more than 200,000 app downloads with an average rating of 4.4.
The native WazirX token (WRX) has played an instrumental role in driving user growth and community engagement on the WazirX platform. WRX is currently available to the community through trade mining and signups and an upcoming token sale is under consideration. About 64,000 users currently hold WRX.
"The young demographic in India give an edge to adopt and build on new financial technologies, and I believe this will play a vital role in making India a global blockchain innovation centre to also spur cryptocurrency adoption throughout the larger public in the country," said CZ (Changpeng Zhao), Binance CEO. "The acquisition of WazirX shows our commitment and dedication to the Indian people and strengthen the blockchain ecosystem in India as well as another step forward in achieving the freedom of money."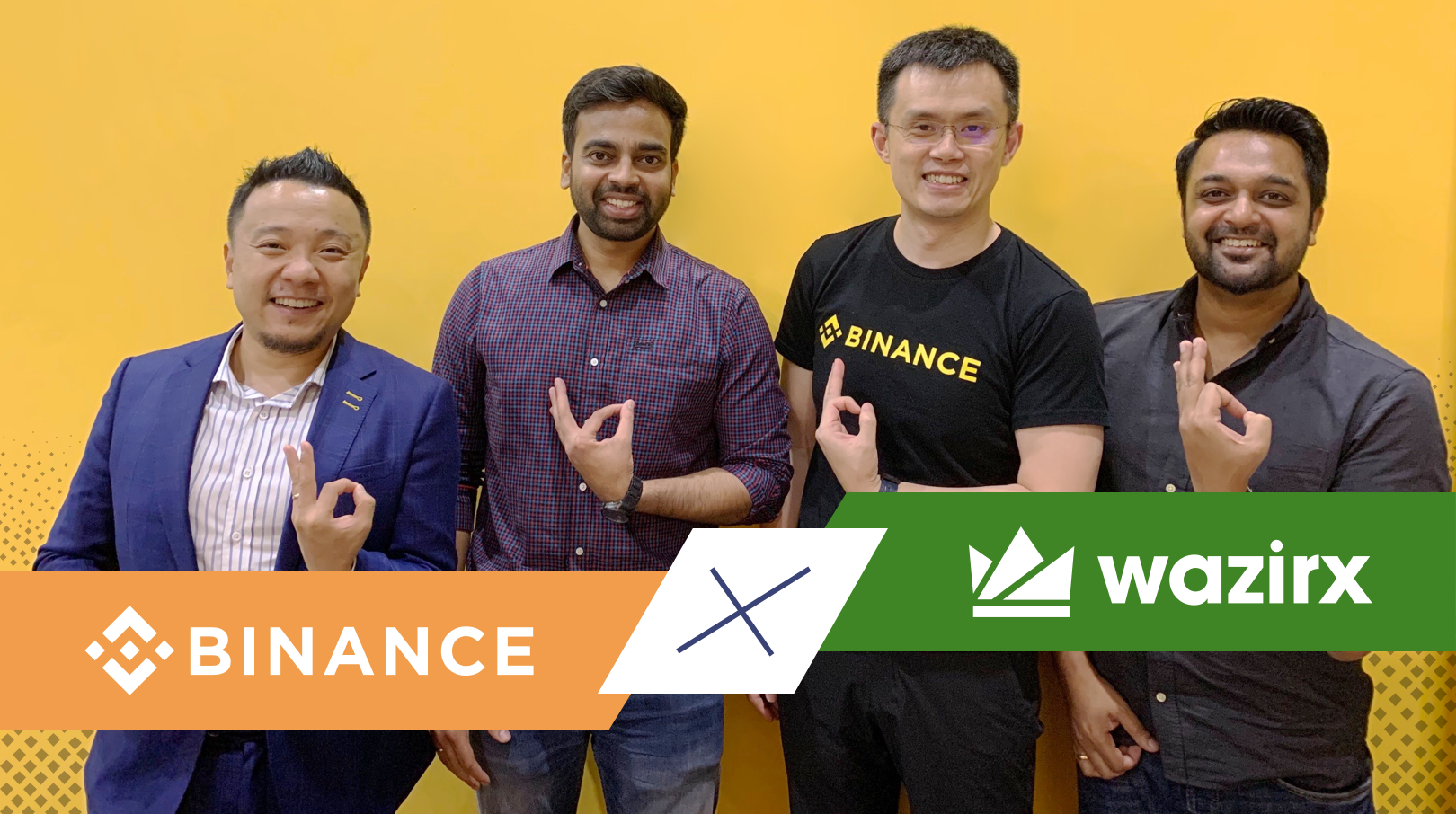 "Building fiat-to-crypto bridges remain a key mission for Binance, and WazirX will help this by providing a simple and cohesive way to purchase cryptocurrencies in a country which is home to more than a billion people," said Wei Zhou, Binance CFO.
About WazirX
Launched in 2018, WazirX is India's largest and most trusted cryptocurrency exchange with more than 200,000 app downloads with an average rating of 4.4. They have recently gone global. WazirX also launched the world's first auto-matching P2P (Peer-to-Peer) engine to help traders to convert Indian Rupees to crypto and vice versa. Today, it is the simplest, fastest and most-used method to deposit or withdraw Indian Rupees in India. WazirX's latest unique feature, Smart Token Fund, helps crypto investors find expert traders, and let them manage their cryptocurrency portfolio. To learn more about WazirX, visit: https://wazirx.com/
About Binance
Binance is a blockchain ecosystem comprised of several arms to serve the greater mission of blockchain advancement and the freedom of money. Binance Exchange is the leading global cryptocurrency exchange by trading volume, with users from over 180 countries and regions. The Binance ecosystem is also comprised of Binance Labs (venture capital arm and incubator), Binance DEX (decentralized exchange feature developed on top of its native, community-driven Binance Chain blockchain), Binance Launchpad (token sale platform), Binance Academy (educational portal), Binance Research (market analysis), Binance Charity Foundation (blockchain-powered donation platform and non-profit for aiding in sustainability), Binance X (developer-focused initiative) and Trust Wallet (its official multi-coin wallet and dApps browser). For more information, visit: https://www.binance.com
Media Assets:
https://drive.google.com/drive/folders/1fSvZh5cqLV435ZIibHkycMlgMPEWUyJW?usp=sharing
Contacts:
WazirX: hi@wazirx.com
Binance: pr@binance.com